When Paper Pumpkin first came out, I signed up for it immediately, and gave it the good old college try…. I soon became disillusioned though, and vacillated between pausing my subscription and cancelling it altogether! I just didn't feel that I was getting my money's worth – and if I didn't, how could I in good conscience really market it to you, my dear customers and friends!
Well – once again, Stampin' Up! ***listens*** to us! At Leadership, SU! announced that they are working on pumping up the volume, as it were, of the Paper Pumpkin. I saw one Demo who was at Leadership say he say the sneak peek of the next couple of PPs and immediately went back and renewed his sub to it!
SO…. I would most humbly and sincerely ask if you would please consider giving My Paper Pumpkin a try. All you have to do is sign up at
www.mypaperpumpkin.com
and if you would, please, select me as your demonstrator: Nancy Keithley, Waller TX 77484. You won't be disappointed – you'll even get a free set of 2012-2014 In Color Markers if you sign up by February 10! (And of course, if you sign up by tomorrow, I'll get some extra goodies from SU, so yeah, if you would I'd LOVE it!!!!)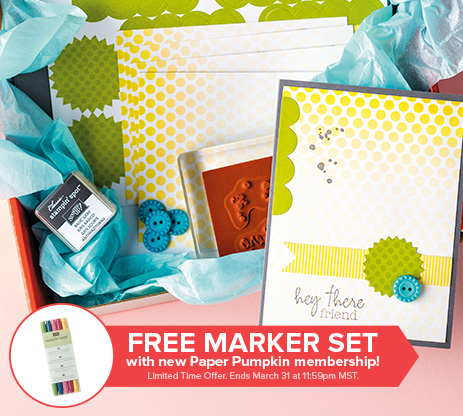 The picture above takes you to where you can sign up. After entering your address and other info, AND your credit card information, click on the I HAVE A DEMONSTRATOR button, and *please* put in my name, city and zip - again, Nancy Keithley, Waller TX, 77484.
In other news, SU has the great Occasions Catalog out – and beginning JANUARY 28, SALE-A-BRATION begins (CUE cheering and applause!!!) – for every $50 you spend (retail – before shipping and tax), you may select one of the very cool SAB items from the SAB catalog! If you don't have one and would like one (Occasions and/or SAB catalogs), please email me.
Information on additional current promotions may be found
HERE
. In addition to the Paper Pumpkin and Sale-a-bration, there is a CLEARANCE RACK BLITZ and some cute VALENTINE specials that you just have to check out!
Thank you for looking and have a great weekend!
Nanc